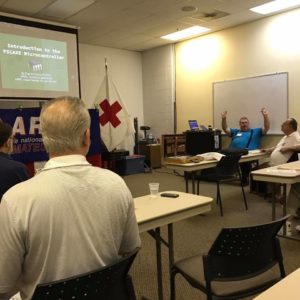 On Saturday, February 25, several members of SPARC made the trip to Sarasota for the 3rd annual WCF section TECHCON. This is a free technical conference put on by the WCF ARRL section technical staff. The location changes to various places around the section to allow the most section members to attend.
This year, there were two conference tracks. One focused on more introductory topics such as station design, antenna building, APRS and programable microcontrollers such as the PICAXE and the Arduino. Another track discussed more technical topics including the Amateur Radio Emergency Digital Network (AREDN) and HamWAN—both which allow creating high-speed data networks similar to WiFi but over greater distances and utilizing amateur radio frequencies (HamWAN was presented by SPARC member Bryan Fields W9CR.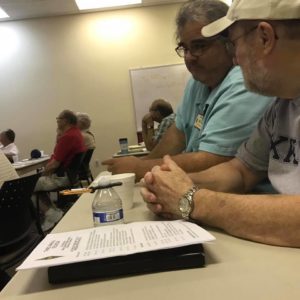 One of the benefits of these meetings besides the technical content is the chance to discuss the technical aspects with other hams. During breaks, it is common to hear hams discussing how they are applying the things learned in unique ways that you would not learn just reading the material from a magazine article in QST. For example, the two networking topics might seem competitive but during the Q&A sessions, we discussed how to couple the mesh capabilities of AREDN for emergency data networks wth the long distance networking backbone capabilities of HamWAN can complement each other to serve the widest area.
If you missed it, make plans to attend next year's TECHCON (around the same time in February tentatively planned for somewhere in Polk county.