Why Become an Amateur Radio Operator?
In this day of cell phones and the Internet, what in the world would anyone want with Amateur Radio?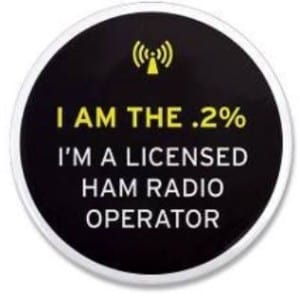 Amateur radio is first and foremost a hobby. It differs from cell phone communications in that to use a cell phone you need three things: you need someone you know, who wants to talk to you, you need to have that persons phone number, and that person needs to be available and willing to receive your call. Cell phone is a One To One form of communication.
Ham Radio is a One to Many form of communications. All you need is a valid license and a radio to talk to hundreds of people who are ready and willing to talk to you. In fact you don't really need a radio. You can use your computer and a ham radio program to talk to people around the block or around the world.
There is no special time of day to use your ham privileges, it could be early in the morning or the middle of the night, you will always be able to find someone to communicate with on the ham radio bands.
More than a hobby, Ham Radio is a community. A community of people dedicated to service to others and to enjoyment of their hobby. You can join one or more of the local ham clubs and personally meet some of the nicest people in your town or you can make ham friends near and far over the radio.
Ham radio is an emergency service organization. In times of emergency like hurricanes or natural disasters, ham radio operators are often the only viable form of communication available. While other forms of communication depend upon infrastructure, Amateur radio operators can run their rigs on a car battery or a small generator providing emergency communication wherever it is needed.
To become a Ham – Amateur Radio Operator – all that is required is that you pass a test given by a local Ham testing group. The test is not simple but certainly not hard and there is a lot of help on this site and online to help you gain the rudimentary knowledge required to get your first Ham license. Hamstudy.org is recommended for practice tests.
For more information about ham radio in the Pinellas County Florida Area contact one of the Amateur radio testing Organizations listed below:
---
St. Petersburg ARC
Pre-registration required
DMI Research
6699 90th Avenue North,
Pinellas Park
Come to rear patio entrance.
3rd Tuesday of the month at 6:30PM
Contact – Pat Connelly AA0O
---
Clearwater ARS
Clearwater Fire Training Facility
1716 N. Belcher Rd
2nd Monday of the month at 7:00PM
Contact – Mike Branda
(727) 785-7534
mbranda@yahoo.com
---
Upper Pinellas ARC
Palm Harbor Fire Station
250 West Lake Road
Palm Harbor, FL 34684
8:30 AM First Saturday of every month

Pre-registration preferred
Contact Mike Branda
(727) 785-7534
mbranda@yahoo.com
For more information go to: uparc.org
Google Map
---