Thank you for your interest in becoming a member of SPARC.
SPARC has a new online membership form. Please click here for the online form. If you prefer using US mail, you can printout the application below and mail it to the treasurer. Here is the paper application: SPARC Membership application
---
Name Tags
Name tags with the SPARC logo are available. They are professionally engraved and the dimensions are 2.5″ by 4″. The price is $16.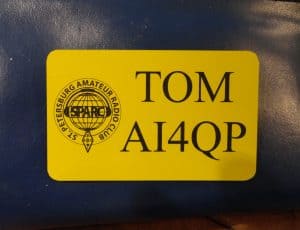 Will W7WMS can order either size for you. Please contact him via email here
---
The SPARC mailing list has several purposes:

Allows quick distribution of announcements that would be of interest to SPARC members and/or Amateur Radio enthusiasts in general.
Allows a means of fellowship and discussion among list members.
Another way to have fun!

Remember these simple rules:

Send messages intended for the list to SPARC@groups.io
You may subscribe and unsubscribe at any time.
This is a NOT a moderated list. Any topic may be discussed, but message content must be appropriate for all age groups.
The list manager(s) may eject anyone from the list at any time for any reason, or a list member can be restricted from posting to the list (read only). Remember, the purpose of this list is for information exchange and fun. It is not a forum for personal attacks.