An Elmer is an endearing term used for a fellow ham that is willing to help others with issues related to the hobby. In days past, your Elmer was the person that helped you put up your first antenna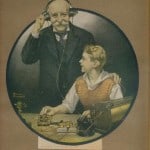 and make your first contact. The following individuals have graciously offered to help out anyone that needs help in their various areas. If you need some new assistance, please get in contact with one of the people listed below.
If you would like to volunteer to be an Elmer, please contact SPARC President Pat, AA0O.
Specialty
Name
Call
Contact Information
Digital, CW, and Antennas
Open
Learning CW
Joe Rubin
W4CBJ
w4cbj@arrl.net
HF, 10-10, County Hunters
Leslie Johnson
WA4EEZ
wa4eez@verizon.net
Maritime Ham Radio, Winlink and SailMail
Jack Satterfield
W4GRJ

w4grj@Satterfield.org

Antennas, equipment choice, learning CW and license upgrade.
Open
Station/Computer integration, remote HF, satellites and DSTAR
Tom Schaefer
NY4I
ny4i@arrl.net