In preparing to do some rewiring in my shack, I investigated the use of crimp-on coax connectors. I ended up purchasing a crimp tool along with coax connector and Powerpole dies from DX Engineering. I can now easily install crimp-on connectors on a variety of coax cables. The die for Anderson Power Pole connectors will make their installation a snap as well.
In my research, I checked out a number of YouTube videos on the subject, I found this one very interesting.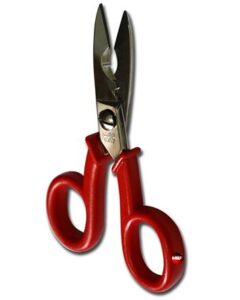 What caught my attention were the scissors used to cut the outer insulation, inner dielectric, foil shield and braid. Digging deeper revealed that they are Messi & Paoloni "Special Coax Scissors."
These scissors were designed by M & P "to ensure accuracy and delicacy while cutting the cable.."
What makes these scissors unique is the high hardness steel straight nickel-plated blades. The external sides of the blades are coated with a thick chrome plating. The internal mating sides of the blades are not chromed to ensure a correct friction while closing, prolonged life and reducing wear in the blade and its unique cable stripper notch. Its the cable stripper notch that differentiates these scissors from ordinary scissors. Unlike most conventional wire strippers, the edges of the notch are razor sharp. The large size of the notch makes it easy to work with coax up to 3/8" OD. The cut is extremely clean and leaves no burrs. They are also much safer than using a razor blade to make the necessary cuts.
I purchased my scissors from GigaParts. .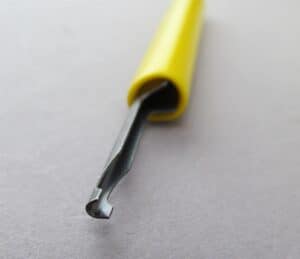 I use Anderson Powerpole connectors for all my 12VDC connections. My new crimping tool (see above) will make their installation easier. My research also revealed another tool previously unknown to me, the Anderson Powerpole Insertion/Extraction tool.
This tool is used with the Powerpole 15 to 45 amp terminals. The tool facilitates extraction of the metal terminals from assembled Powerpole connectors and easy insertion of the metal terminal into an empty Powerpole housing.
I purchased my tool from DX Engineering.
*Lagniappe: (LAN-yap) "A little something extra."