James Osborne, KI4EN, became a Silent Key at 93 at the VA hospital at Bay Pines on 7/27. He was a WW2 veteran. He lived for 40 years in St. Petersburg and was known by many local hams. He built and repaired of radio equipment for himself and others and has a large inventory of parts and tools.
James' son, Jim K7LYQ, is advising us the estate sale has been postponed by hurricane Irma until September 29th through October 1st and will include the following ham equipment:
Henry 2K-4L amplifier with Eimac 3-500 tube and spare HV transformer.
BTI amplifier with Eimac 3–1000 tube.
2 Ten-Tec Titian 425 amplifiers with tubes.
Icom IC-2KL solid-state amplifier.
Icom IC-751A & power supply.
Icom IC-AT-500 antenna tuner.
Icom IC-PS30 power supply.
Cushcraft R-7000 vertical antenna.
Drake TR-3 transceiver/power supply.
Spare RF power amplifier tubes 4CX-1000 (very low hrs).
Kenwood K-2000 amplifier with tube.
2 Autec WM-1 power meters
Large HV transformers and capacitors for 10 Kw amplifiers
Jennings vacuum variable 10-375 ppf 10kv capacitor.
100's of Amphenol RF connectors.
Various test equipment, parts and electronics.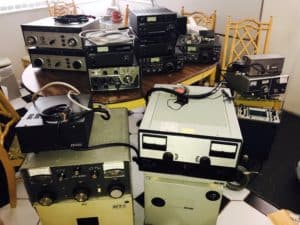 All the equipment is in good operating order and stored in a clean non-smoking environment. Manuals are available for most equipment. The estate sale is being handled by:
Tampa Estate Sales
Brandon Granai
727-416-1630
The new sale dates are held September 29th through October 1st at the KI4EN QTH in south St Petersburg at:
5050 62nd Ave South
St. Petersburg
Prices will be based on offers and reduced until sold.
If you have any questions, contact Jim Osborne, K7LYQ, cell phone (702) 808-7132 and email:
Please circulate this information to any groups you feel would be interested in this equipment.