Richard "Rick" Niendorf Jr. (69) of St. Pete passed away on February 28th, 2023.
Rick was born in St. Petersburg, Florida, on July 8th, 1953, to Lois and Richard Niendorf. He graduated from Boca Ciega High School in Gulfport in 1971. Rick served honorably in the US Army as an engineman, spending time abroad in Germany. He obtained multiple automotive mechanical, operation, and technician licenses, working for many years at Florida Power. Rick enjoyed playing the piano, loved fishing and boating, and felt most comfortable with a boat in his backyard when he didn't have it on the water. His call sign in amateur radio (Ham) was KK4WTE, licensed in 2014 through his passing. He made many friends and took pride in helping communities, relaying important information during emergencies. Rick is survived by his daughters Katherine Niendorf, Elizabeth Sherard, Amanda (Christopher) Hurtt; mother, Lois Niendorf; siblings David Niendorf, Steven (Diane) Niendorf, Laura (Paul) Dechen; and six loving grandchildren Anabelle, Laurence, Eleanor, Marc-Antoine, Isaac, and Isabelle. Rick is predeceased by his father, Richard Niendorf Sr. Full military honors will be held on Monday, 10 am, March 20th, 2023, at Bay Pines National Cemetery, 10000 Bay Pines Blvd, Bay Pines, FL, followed by a wake at War Memorial Park Shelter 2.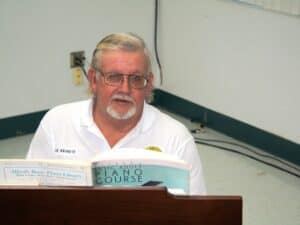 Rick at the piano, SPARC club meeting Oct 2019.