At the May 6th club meeting our program will include several examples of a "Go Box." These portable communications centers can easily be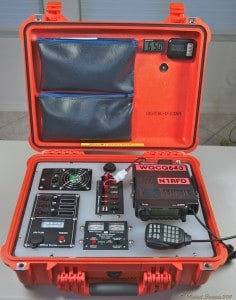 transported by one person, setup quickly and provide communications on different bands and modes during emergencies or other communication events..
Learn about their purpose, capabilities, how to plan and make your own. Our presenters will each demonstrate their own projects. We will hear from: Andy, KI4VOS; Udo, KF4KUL and
Clayton, KJ4RUS. We also plan to fire up some of the equipment as a demonstration.
There will be plenty of time to see the equipment up close and ask questions. Flexible communications capability is important for wide-spread emergency situations. As we approach hurricane season, this program should provide plenty of ideas on how to construct your own Go-Box.
Everyone is welcome to attend the club meeting, SPARC member or not, even if you don't have a license.