SPARC has made arrangements with a local uniform shop to supply custom-embroidered shirts for members. The shirts feature the embroidered club logo along with your first name and callsign. These are short-sleeve, collared pull-over shirts available in sizes from extra small to 5 XL. The shirt below is an example of the same shirt printed for the UPARC club in Palm Harbor. Of course, your shirt will have the SPARC logo.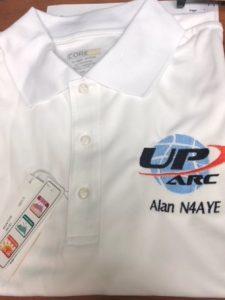 Pricing on the shirts is as follows (tax included):
XS to XL          $24
2XL                 $25
3XL                 $26
4XL                 $27
5XL                 $30
How to Order:
Please download the order form here: SPARC Shirt Order Form
Payment must be made up front so it would be best to bring this to the club meeting.
Please consult the sizing chart carefully as since these are custom shirts, all sales are final. It would be best to measure a shirt that fits you well to be sure of the fit.
More information is available at the club meeting and we will be accepting orders at that time.
For questions, please send email to shirts@sparc-club.org