Join us June 23rd, 24th and 25th at the SPARC club house for this year's ARRL FD activities.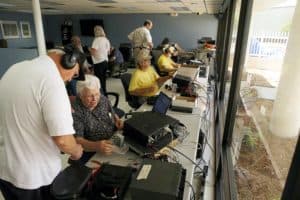 Our goal is not a big score, but for everyone to take part and experience station setup and getting on the air.
Field Day setup begins on Friday at 2:00PM. We will begin station configuration. This includes tables, antennas, radios, computers, and power.
Saturday morning, beginning at 10:00AM, we will finish station setup and verify all systems are go. We will form Ad Hoc committees to take care of the operating schedule, food and any other necessities.
The event starts Saturday afternoon at 2:00PM. Let the fun begin. Operators of all experience levels are welcome to operate. CW/Digital/SSB operating positions will be available at various times of the day. If enough operators are available, we can keep the station open a full 24 hours. Remember to bring your own headphones.
Sunday at 2:00PM the operating event ends and station take-down begins. Many hands make light work, so chip in and don't miss the fun.
The new SPARC FD format should be more fun and less hassle for all members. Look forward to seeing everyone there.