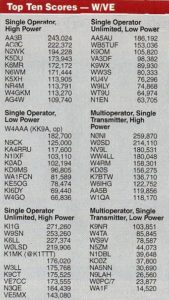 According to the August 2017 edition of QST, W4TA placed second in the Multi-Single Low Power class in the 2017 ARRL RTTY Roundup.
1st K9NR 103,851
2nd W4TA 85,845 (908 QSOs and 97 multipliers)
3rd WS9V 78,587
Way to go SPARC operators: KA4IOX, KP2N, KR4U, KB8ESY, N2ESP, N4GD, N4KPJ, N4RI, NY4I, VE3XD, W4CU and W4TSP.
If you would like to join in the fun, contact Ron KP2N for details on our next Radiosport event.