By Bob Wanek N2ESP
This year, SPARC contest station W4TA participated in the Florida QSO Party with a special 1×1 call: W4S. 2017 marks the 20th anniversary of the FQP. In celebration, twenty Florida stations were given special 1×1 calls such that the proper suffixes, when combined together, spell out FLORIDA SUN as part of this year's FQP spelling bee. That means that the rest of the country was looking for us.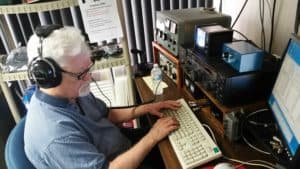 Things started slowly for the CW station on 40M while the SSB station took off like a rocket on 20M. It's safe to say propagation was equally poor for all event participants. Having amplifiers to drive our new antenna system enabled us to be heard around the country. We worked all 50 states and 8 of the 9 Canadian provinces, with a few DX countries thrown in for good luck. We were also fortunate to work SPARC member Lisa KC1YL who was at her northern QTH in CT. Thanks for the Q Lisa.
The FQP started Saturday at noon, and so did the food. Many thanks to Tom W4CU for the crockpot of chili and to Bob WB4MCF for the donuts. Sunday morning we were treated to fresh bagels courtesy of Tom NY4I.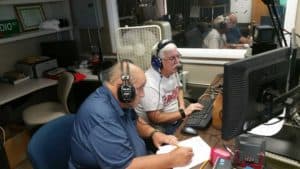 SPARC has a policy of encouraging newcomers to our hobby. We invite new hams and first timers to join us in the fun. While this can have a short term negative effect (on our score) the long term effect is very positive. In this sprit, Dave KR4U told us of his five minute QSO. We all looked at him in amazement, as Dave is a proficient CW operator. We all know that propagation was lame at best with lots of QSB. But five minutes? Must have been a lot of fills…FIVE MINUTES? Dave went on to explain that he was calling CQ FQP and a station returned around 5 WPM. Dave reduced his speed and sent our exchange. What ensued was hi, my name is … my QTH is… my radio is… my WX is… the typical newbie QSO. Dave recognized the situation and kept the QSO going…for five minutes. The toughest 2 points in our log, but worth 1000 QSO quality points. Thanks Dave for acting in the true amateur tradition.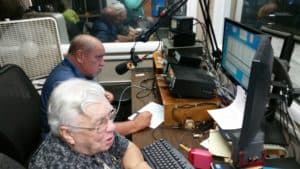 Operators participating in this event were Bob N2ESP, Dave KR4U, Dee N4GD, Johnnie W4TSP, Paul KA4IOX, Rex, KB8ESY, Ron KP2N, Scotty N4RI, Tom NY4I and Tom W4CU.
The final score indicated 613 CW QSOs and 733 SSB QSOs. A great showing for SPARC as we represented Pinellas County to the ham radio community.