The weather could not have been better. A little hot perhaps during antenna setup on Saturday but the customary Field Day rain storms stayed away. Not that it would have mattered too much this year. Field Day, ham radio's open house, this year was a joint effort between the Clearwater Amateur Radio Society, St. Petersburg Amateur Radio Club and Upper Pinellas Amateur Radio Club. The event took place on June 23rd and 24th at the Clearwater Fire Training Center in Clearwater. The banners above show all three clubs on display individually, but also working as one to put on a resounding successful Field Day (Banner photos by Bob, N2ESP). As mentioned in the lead-up articles to Field Day, this site provides great facilities for raising antennas as well as an inside operating location to stay out of the heat (and away from the usual Field Day bugs). We also had great kitchen facilities, showers, etc.
Antennas
The antenna team was led by Rich AA2MF. His team installed a beam antennas for 20/15/10 on the 60 foot tall tower used to train fire fighters.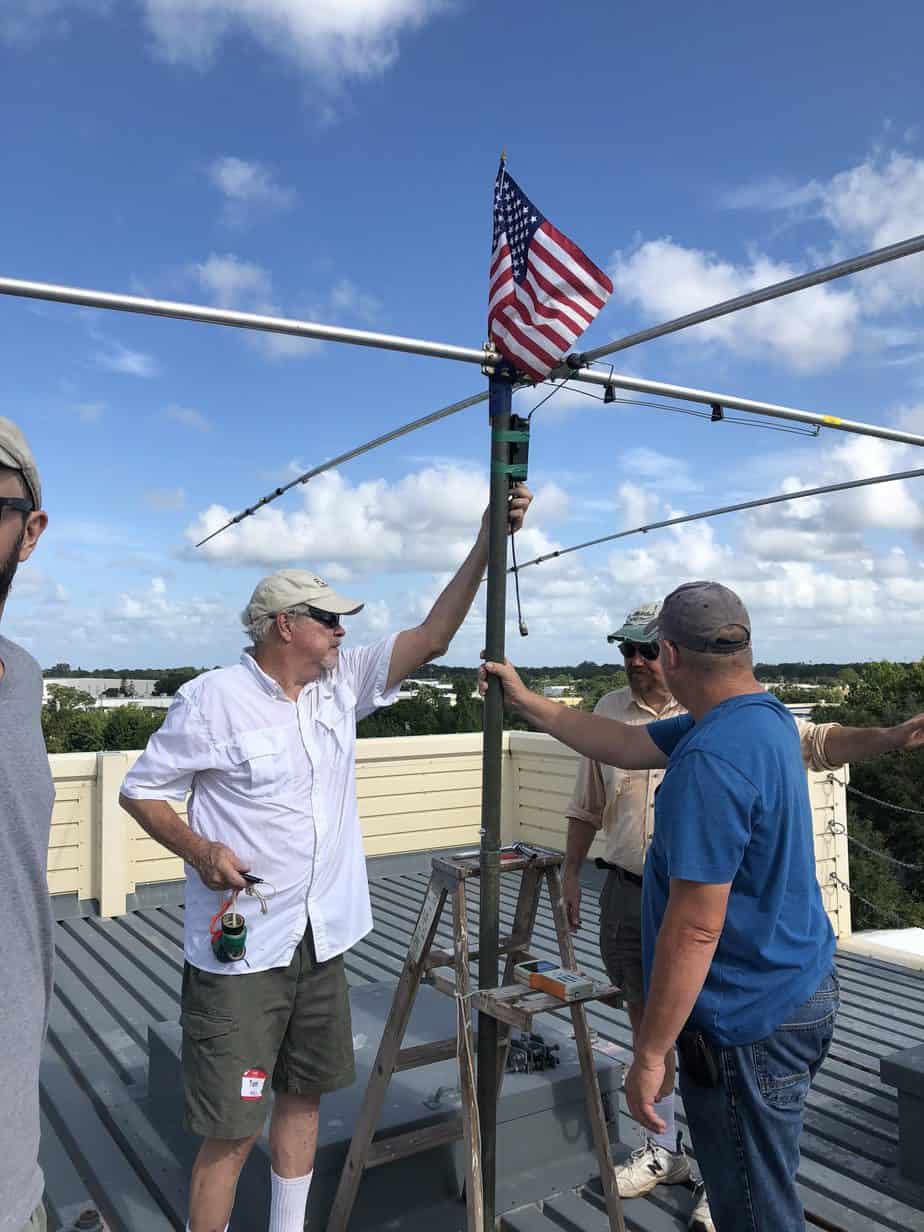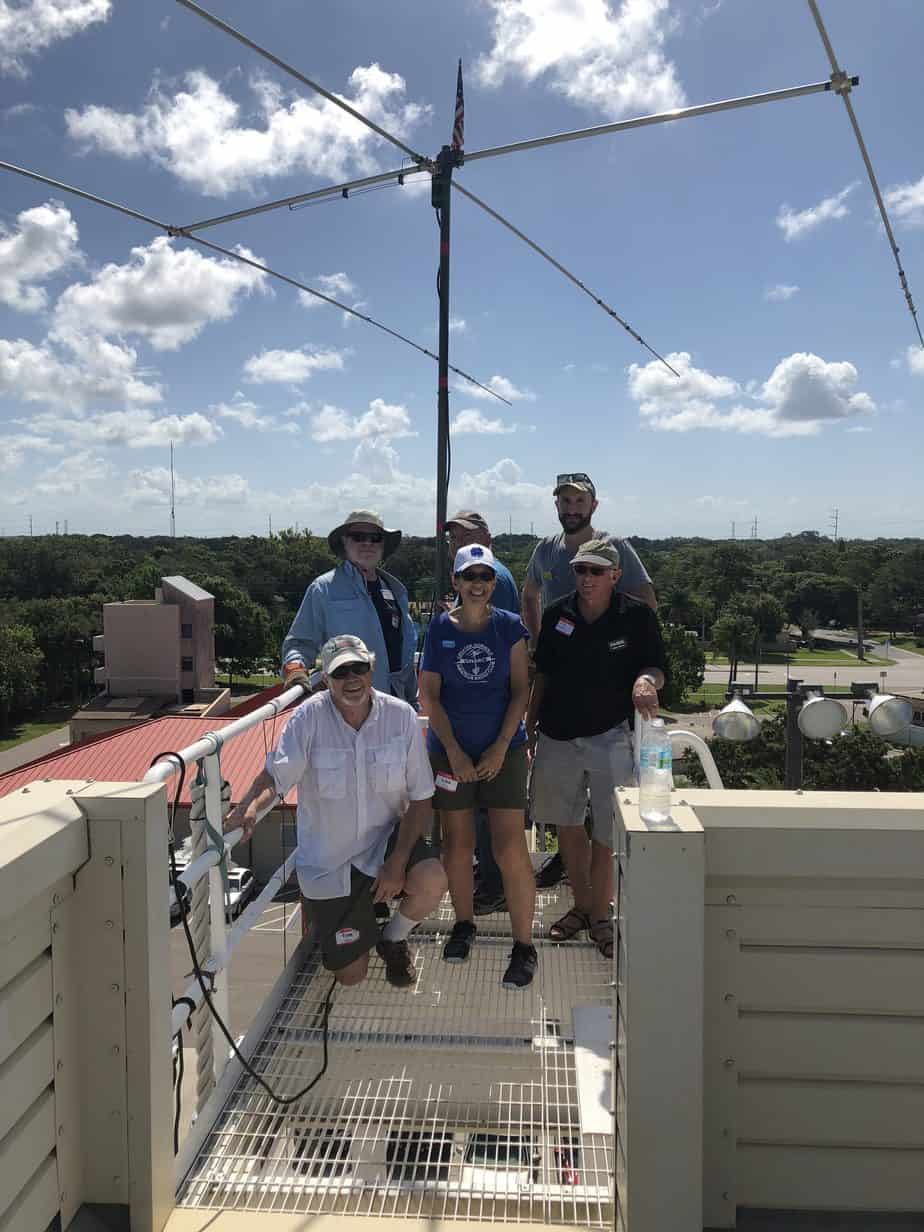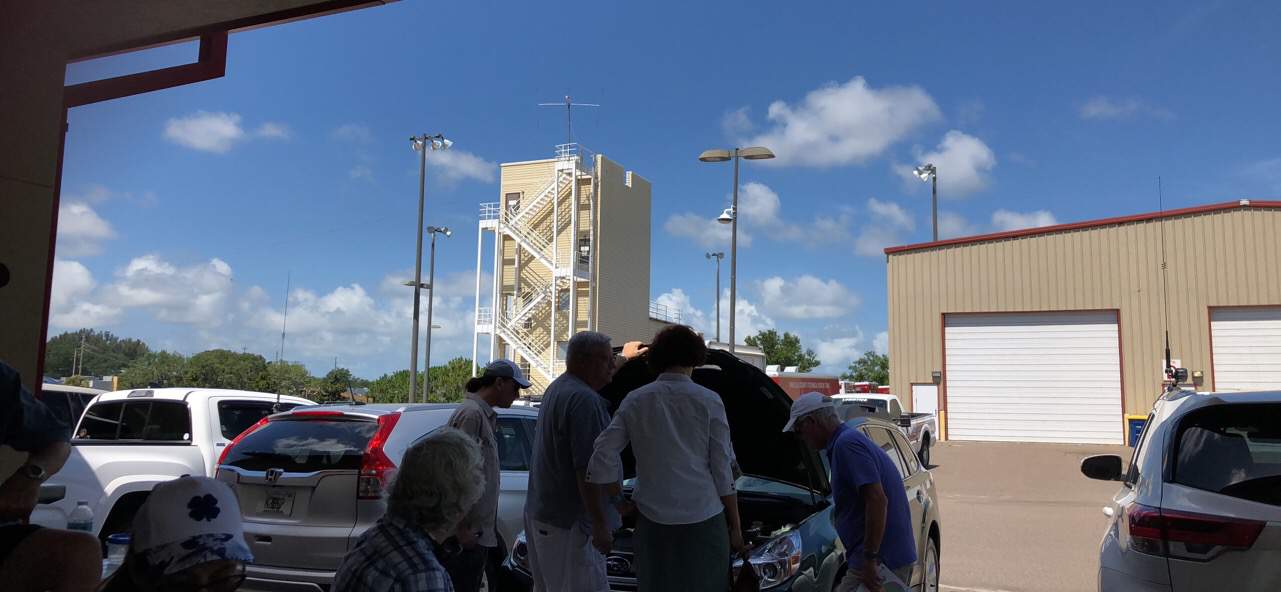 Other antennas included two slopers with auto-tuners as well as a vertical and off-center fed dipole. Rounding out the antennas installations were a 6m horizontal loop and the satellite beam for the 100 point bonus contact.
Radios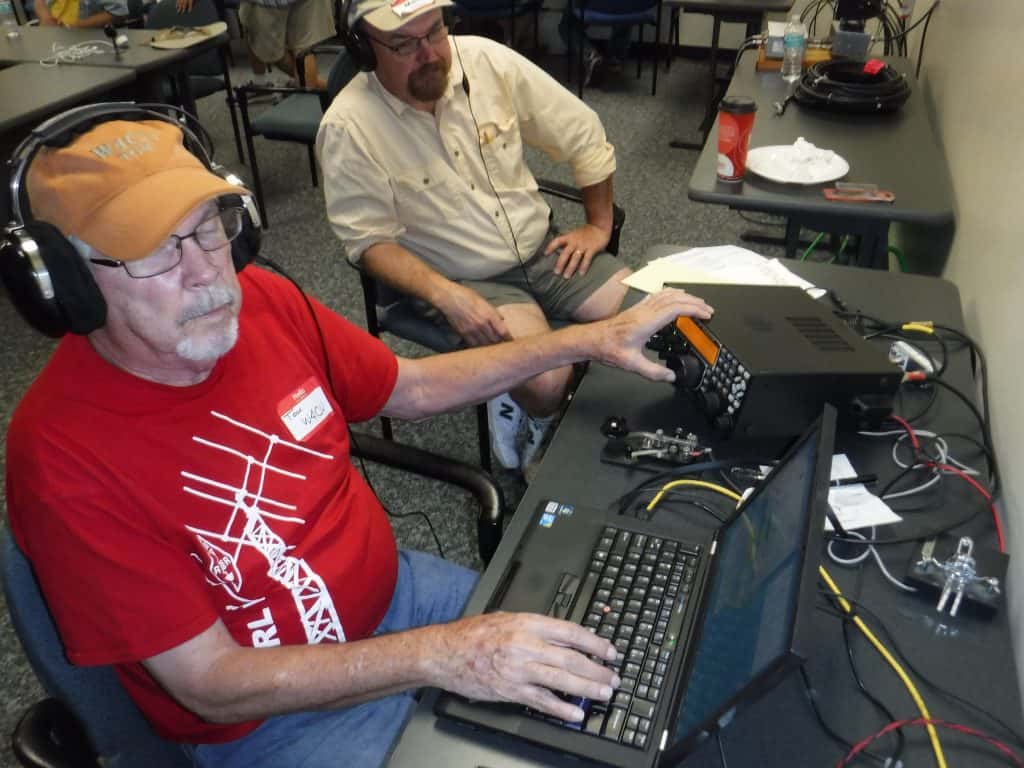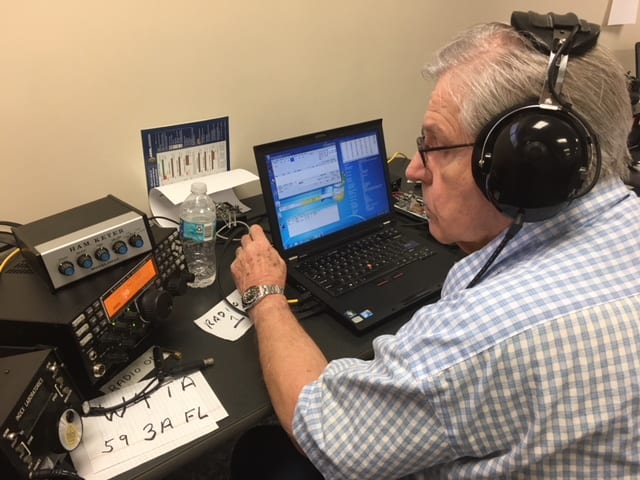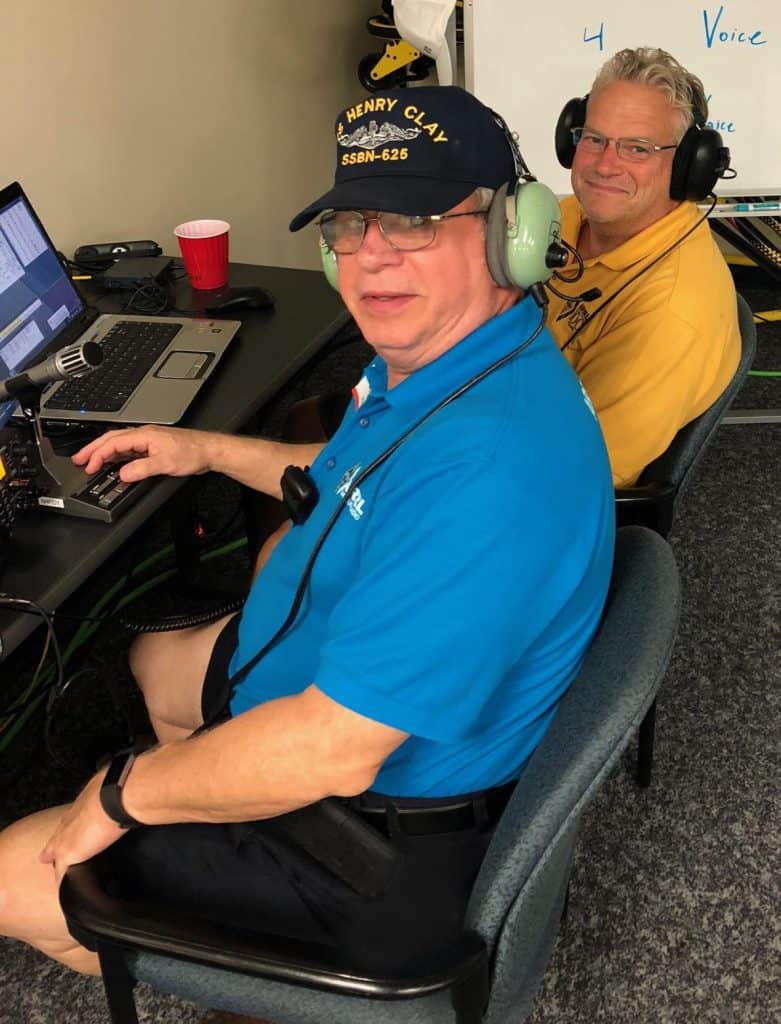 We had 3 HF stations running including two Elecraft K3 radios and a Kenwood TS590S. All stations used computerized logging using the TR4W software and were networked together.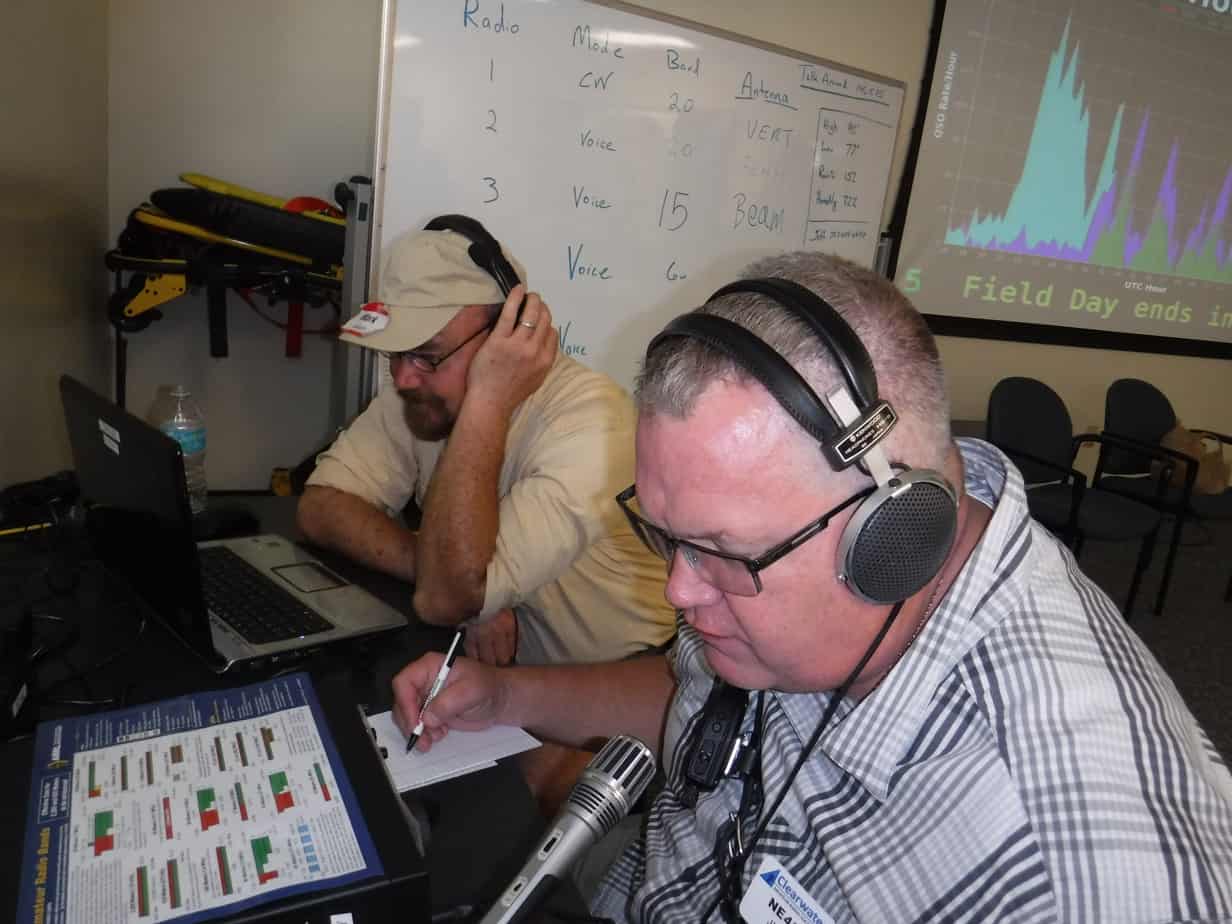 Food
All meals were provided during thew weekend. We had hamburgers (with bacon and cheese in the middle) as well as hot dogs for lunch both days. We also had pulled pork BBQ on Saturday night along with pot-luck side dished brought by the attendees. Honestly, the food seems to go on forever with lots to eat by everyone. Many thanks to Kevin and the food team for putting out a great spread and keeping the operators fed the whole weekend.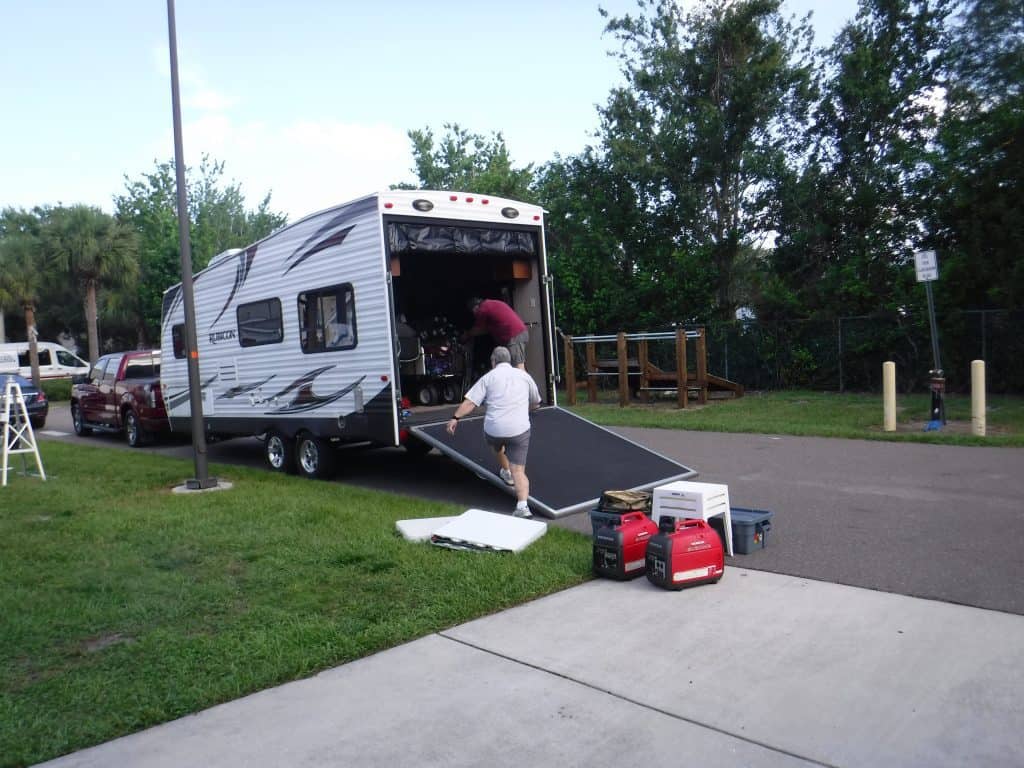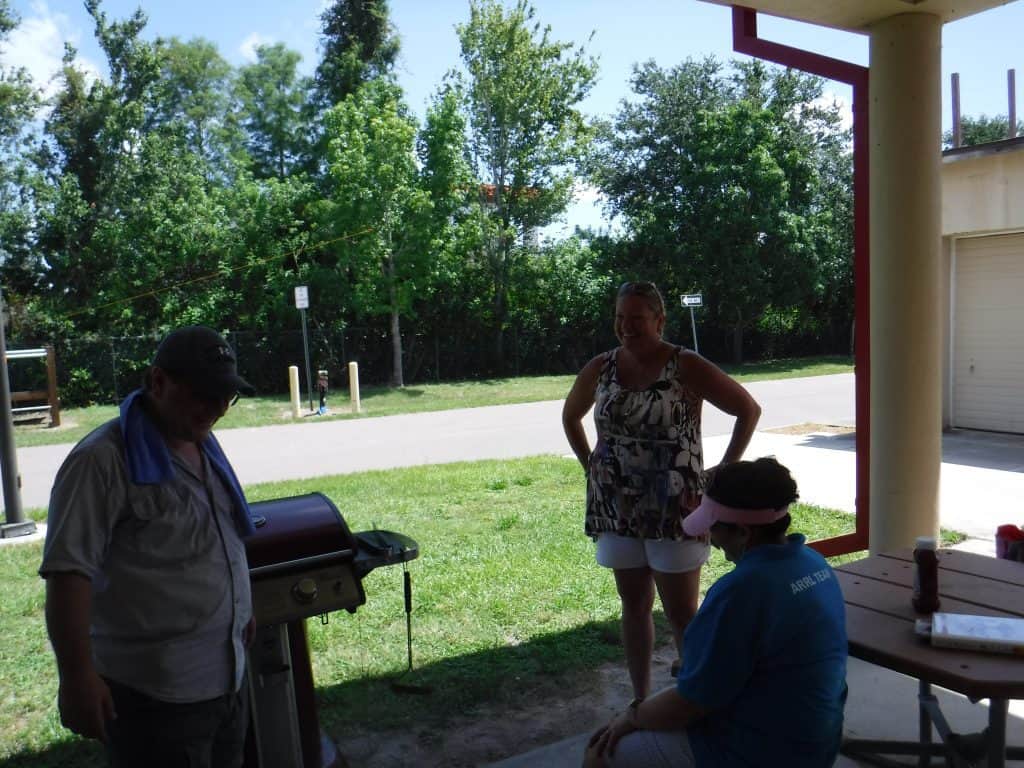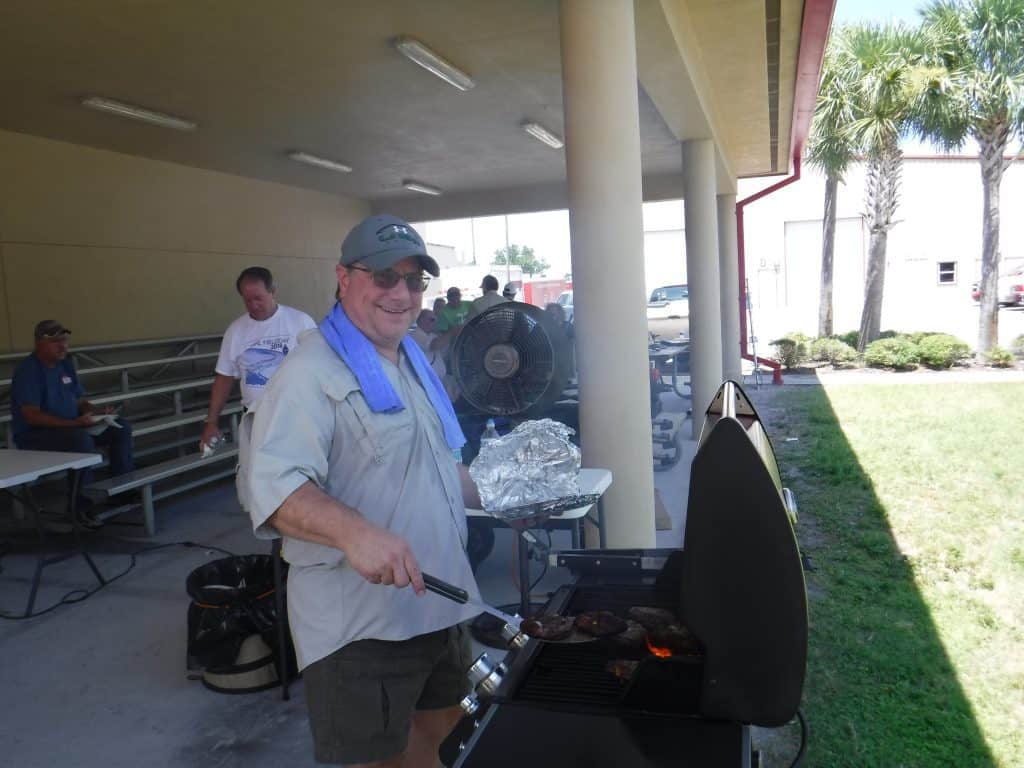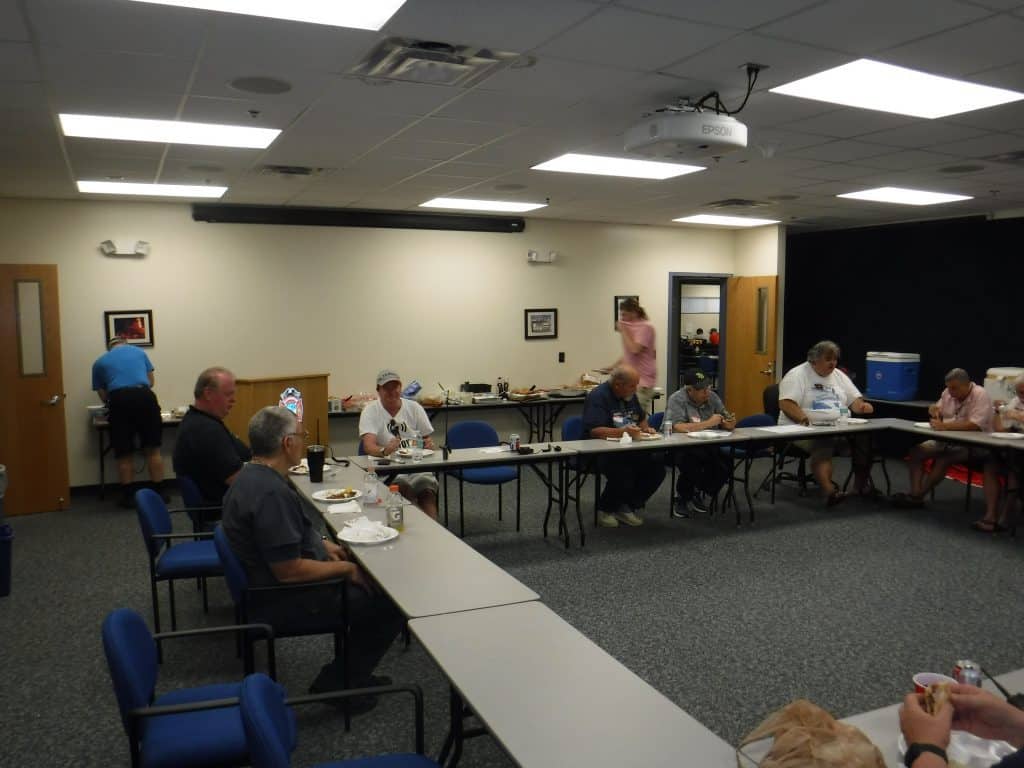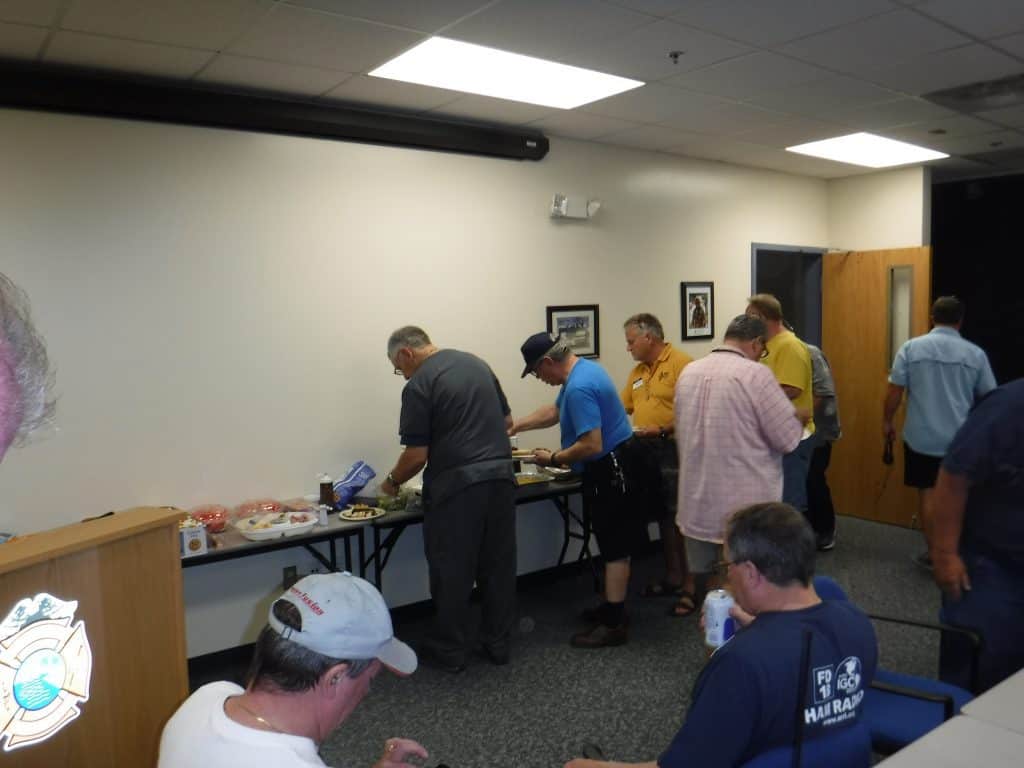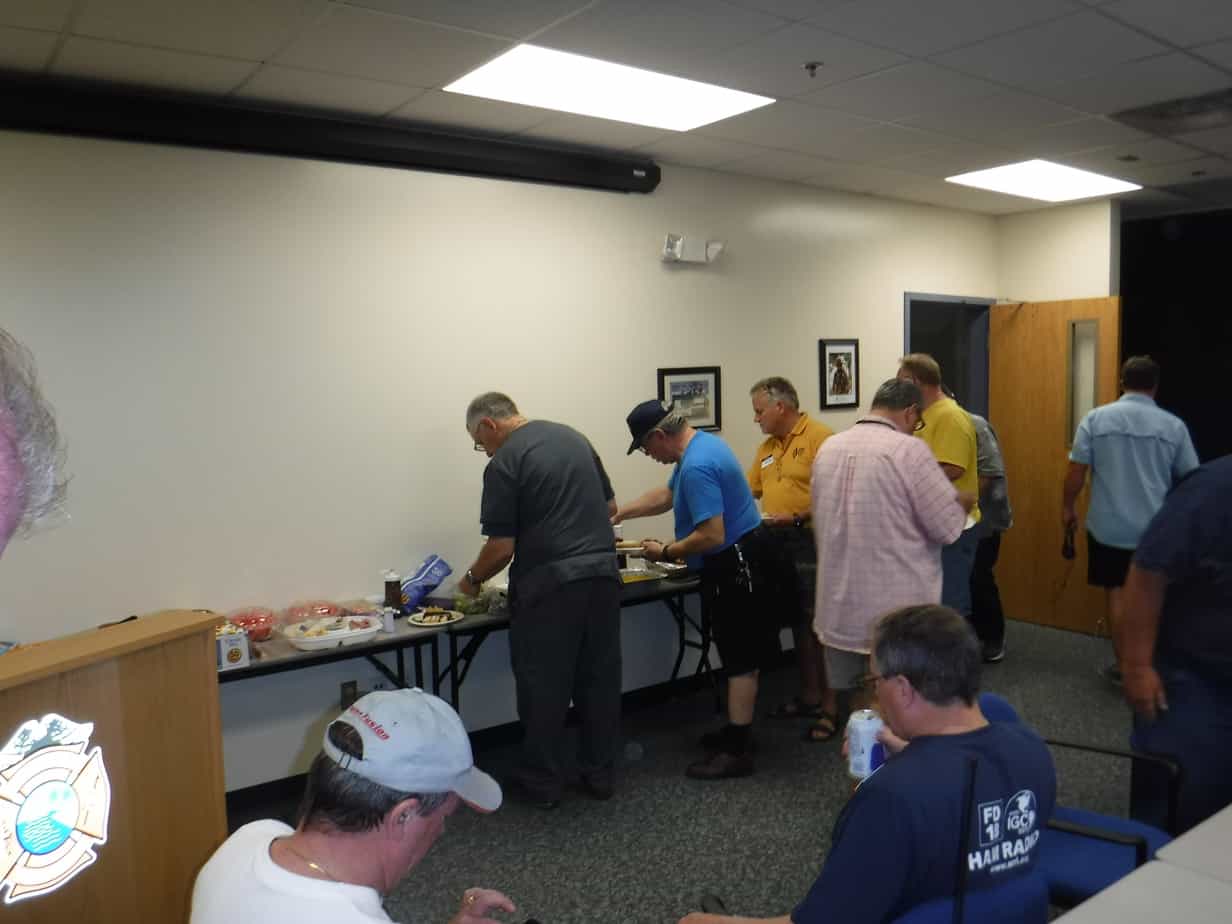 Bonus Points
While Field Day is not officially a contest, we do keep score. One of the ways we add to our score is with bonus points. Bonus points are really a way to incentivize clubs to do more than just operate the radios. Our group took advantage of most of the bonus point categories.  Things such as setting up in an area accessible to the public, inviting media, having elected and served agency officials stop by the site all add to the exposure of Field Day. We also send official messages as we would be we had a real disaster. Making a satellite contact, using a safety officer and social media also add points. All total, our group met 14 out of 17 bonus point categories—educational activity, GOTA and youth contacts being the only ones missed.
Results
Our points this year shape up to be as follows:
562 CW Contacts for 1124 points
689 Phone contacts for 689 points (this includes 86 –  6m contacts).
Total QSOs: 1251
Power Multiplier (150 watts or less): 2
Total QSO Score: 3626
Bonus Points Achieved:
100% Emergency Power (300 points)
Media Publicity (100 points)
Setup in Public Place (100 points)
Information Booth (100 points)
Message to ARRL SM (100 points)
W1AW Field Day Message (100 points)
Formal Messages handled: 10 (100 points)
Satellite QSO completed (100 points)
Natural Power QSOs completed (100 points)
Site Visit by invited elected official (100 points)
Site visit by invited served agency official (100 points)
Submitted using b4h.net applet (50 points)
Social Media (100 points)
Safety Officer (100 points)
Total Bonus Points: 1550
Total Claimed Score: 5176
Using last year's results for the entire SouthEastern Division, that would put us 4th in the Southeastern Division and about 50th in the country (3A is a popular category).
For comparison…
2017 FD Results
SPARC 3E (Regular station but emergency power): 1335 QSOs Total Score: 4236 points
Final Thoughts
The idea to put on a joint Field Day this year with the three clubs was an off-shoot of the fun we all had at Winter Field Day this past January. Whenever one combines three clubs into one activity that normally each club does independently, there is the risk of clashing egos and the potential for drama. I am happy to report that nothing of the kind happened. Everyone got along wonderfully. A great spirit of community and cooperation was found by all and rather than working as three clubs, we worked as one cohesive unit. The leadership of Jeff Palmer NE4C, Bob Wanek N2ESP and Jason Esterline N4BOZ, the club presidents from CARS, SPARC and UPARC respectively—set the stage for everyone to have a safe, enjoyable and fun Field Day. We are already looking forward to Winter Field Day in January.
While the list of people to thank is long, the most thanks goes to the members and guests that showed up and made this a great experience. Without the club members and all the other volunteers, we would not have had a Field Day. We also express out sincere thanks to the Clearwater Fire Department Chief Ehlers along with Clearwater Mayor Cretekos. We thank you all and look forward to many more events.